Vault Rankings 2021: Executive Insight amongst the best consulting firms in Europe
The specialized healthcare consultancy Executive Insight has again been recognized in the 2021 Vault rankings. The company finds itself amongst the top 25 consulting firms in Europe, made the 12th place for diversity as well as the 13th place for informal training and mentorship. Small but excellent is the perfect way to describe the success of the biopharma strategy consultancy.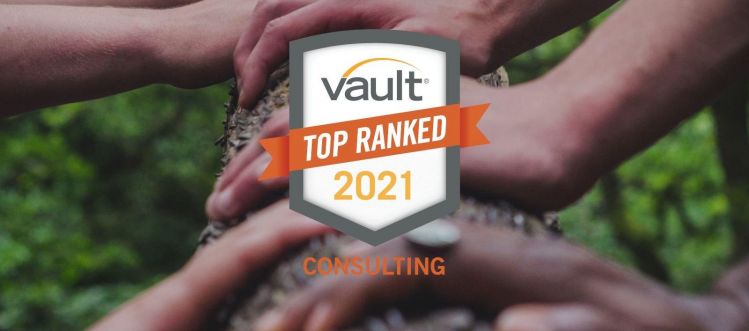 "Best company I worked for", "Perfect variety and intensity of projects offered", "Great culture and colleagues, international environment", "Fantastic work life balance" — These are some of the uppers employees mention when they were asked about their experience working at Executive Insight, according to the latest Vault employee survey. Vault finds much to recommend about the firm with deep roots in the healthcare and pharma space, including the opportunity to make rapid career progression while enjoying a healthy work-life balance, which is seldom the case in the consulting industry.
"Salary-wise, we sometimes cannot compete with the big names in consulting — but when it comes to a high quality of life and freedom, we are definitely the more livable option", says Jennifer Prosperi, HR Manager at Executive Insight. "You also have to weigh in the generous vacation package and a team of insightful, inspiring, curious minds and creative thinkers, who are real team players", she continues. Projects are staffed well to help avoid extended peaks, and employees are protected from burning out. Executive Insight has found the balance that allows individuals to commit and project themselves long term in the consulting industry by matching individual needs with client timelines. For example, flexible hours and working remotely has been possible since many years, long before the current pandemic.
Rank 12 in diversity
All employees who took part in the survey are on the same page when it comes to diversity. It starts with the diverse backgrounds of the team members, goes on with equal opportunities irrespective of gender or sexual preferences, and the almost 20 different nationalities represented in the rather small team of about 60 people. All employees are being treated equally and receive the same compensation and career progression opportunities. This can be nicely seen when you look e.g. at the representation of women on all levels: On Partner and Principal level, the number of women is even twice as high as the number of men. Also, the retention rate of women post maternity is almost 100%, which is unprecedented in the industry.
The firm culture is highly personal and friendly; people care for each other as well as for their clients. The very personalised service they provide to clients relies on the same team being responsible throughout the entire project duration. Employees' joint intrinsic motivation to contribute to the healthcare industry beyond just serving its customers with top services is married with an amazing team of individuals who are able to combine excellence in work with fun and respect for diversity.
Rank 13 in internal training and mentorship
Executive Insight offers formal internal training and has a mentorship program. "Every new employee gets his or her own mentor who supports with development and onboarding", says Jennifer Prosperi. "There is a lot of trust and transparency between employees and top managers, and a flat hierarchy. If someone raises an issue or detects improvement opportunities, they will always find a sympathetic ear", she adds. This is especially true if something extraordinary happens or if someone feels overly stressed or overworked. And since COVID-19, the company runs a wellbeing training each month for all employees to attend if time allows.
New joiners, in particular, are being exposed to different kinds of projects in the commercial pharmaceutical space, to foster variety and enable them to find their specific area of interest and expertise. Being the preferred provider of the majority of the big players in the pharma industry globally makes it possible to offer interesting work with exciting clients. There are also opportunities to work across both offices and move between London and Zurich to a certain extent.
Outlook for 2021 and beyond
The current situation is extraordinary for everyone, but the company is having its best year ever. Executive Insight has a very clear strategy with established focus areas in terms of service offering and account management. The focus lies on successful early asset strategies, environmental transformation and value pull-through along the entire lifecycle of a drug. The self-funded management team is providing the flexibility to pursue strategy goals way beyond strict financial targets.
Find the official Vault 2021 results here: https://www.vault.com/company-profiles/management-strategy/executive-insight
About Executive Insight
Executive Insight is a specialized healthcare consulting firm supporting biopharmaceutical companies in successfully preparing, launching and commercializing their products. The company was founded in 2000 by a group of industry professionals who recognized the need for specialized healthcare consulting. Today, Executive Insight proudly works for 6 of the top 10 global pharma companies and has about 60 employees located throughout Europe and beyond. The head office is located in Switzerland with a subsidiary in London, UK.
Executive Insight AG
Seefeldstrasse 301
8008 Zurich, Switzerland
Phone: +41 (0)44 389 75 10
E-mail: info@executiveinsight.ch
www.executiveinsight.ch
You can download the pdf version of this press release here.