Executive Insight, Healthcare Consultants unveils new website
The new website offers visitors an insight into the company's thought leadership on key industry topics, examples of applied expertise through project case studies and a complete overview of their service offerings. In addition, visitors can get to know the international team and learn about the purpose and values that drive Executive Insight.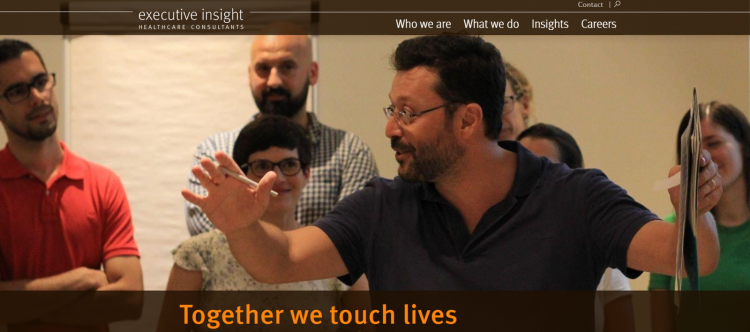 Easily accessible thought leadership and applied expertise
The new website contains a wealth of thought leadership pieces where active consultants share their experience in project cases and provide a snapshot of their established methodologies and strategic thinking. The diverse array of projects includes for example optimizing patient access to a novel stem cell therapy, defining a pan-European commercial model, establishing a beyond-the-pill strategy to maximize the value of a drug, and developing a strategic approach to engage health policy stakeholders. In addition, a library of more than 60 publications, expert interviews, articles, surveys and reports dive into the current burning issues in the industry.
An inside look at the team
In the careers' section, team members explain the unique culture at Executive Insight and share their own stories and experiences of working with the company. Profiles introduce the team and share their interests both in and out of work. This section also charts the career path for new team members, explaining the opportunities on offer for growth and development.
The why behind the what
Executive Insight lives by their mission statement; "Together we touch lives". This passion drives their work and makes every project, big or small, matter. This clear goal, along with a set of deeply embedded values – honesty, freedom and caring – provides clarity, confidence and guidance in external client projects as well as internal interactions.
"In the process of the redesign, we also needed to reflect a lot on ourselves" says Meike Wenzel, Partner and Head of Company Marketing at Executive Insight. "What makes us excel in client projects? How are we really different from others? Why are our clients happy with our services? And how can we better get across what it is like to work with us? We are very excited about our new website launch and the comprehensive information it provides customers, partners, candidates and media as we continue to grow and increase our market presence."
Find out more about the team, how the company works and how you could benefit from the services on offer: www.executiveinsight.ch.
About Executive Insight
Executive Insight is a specialized healthcare consulting firm supporting biopharmaceutical companies in the successful preparation, launch and commercialization of their products. The company was founded in 2000 by a group of industry professionals who recognized the need for specialized healthcare consulting. Today, Executive Insight proudly works for 6 of the top 10 global pharma companies and has 50+ employees located throughout Europe and beyond. The head office is located in Switzerland with a subsidiary in London, UK.

For further information please contact:
Executive Insight AG
Haldenstrasse 5
6340 Baar, Switzerland
Phone +41 41 710 71 63
info@executiveinsight.ch