Best Swiss consultancies 2021: We made it to the top ten in Pharma!
In a ranking by Finanz und Wirtschaft (FuW) and Bilan, Executive Insight made it to the top ten consulting companies in the pharma sector. With the help of data specialist Statista, thousands of online surveys and expert interviews had been conducted.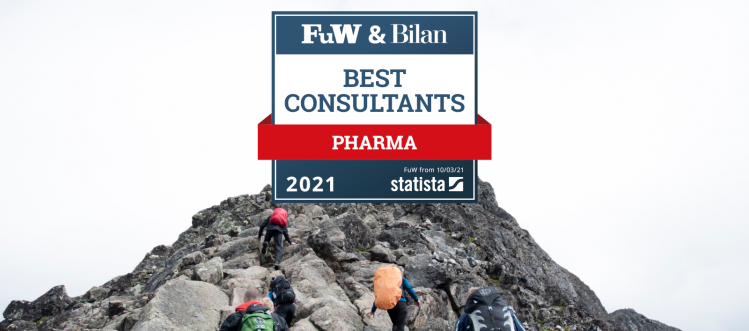 In a ranking by Finanz und Wirtschaft (FuW) published in March 2021, Executive Insight was identified as one of the leading pharma consulting companies in Switzerland. Over 4'000 Partners and Principals of leading management consulting companies were asked to give their recommendations on consultancies for different sectors (self-recommendation was not possible). In addition, over 200 clients in leading positions such as Head of Strategy or Head of Business Development were asked for their perspective as well.
For the chemicals and pharma sector, healthcare consultancy Executive Insight made it to the top ten, despite our exclusive focus on pharma only. "I am so very proud of our top-notch team, for their continued delivery of great work!" comments Marc Pesse, Partner at Executive Insight on this success. Meike Wenzel, also Partner at the company, adds: "A big thank you goes out to our clients as well, for their continued trust and great collaboration! And it is an honour to be amongst the big names in the consulting industry. This shows that our specialisation on healthcare and vast expertise in this sector pays off."
Especially the fact that other consulting companies have recognized the work of the specialized healthcare consultancy makes Aleksandar Ruzicic, another Partner at Executive Insight, particularly proud: "We have made it to the list together with McKinsey & Company and Roland Berger, my two former employers for almost as long as the now over seven years with Executive Insight. Without the continuous candid, transparent and caring feedback of all the impressive Partners there, I would not have been able to develop the necessary capabilities to become a Partner and shareholder at the premium pharma strategy consultancy Executive Insight."
You can find the entire article in FuW with the rankings here: https://www.fuw.ch/wp-content/uploads/2021/03/fuw-die-besten-schweizer-berater-2021.pdf
If you want to learn more about the method behind the surveys and ranking, you find all relevant information here: https://de.statista.com/page/beste-unternehmensberater-schweiz-2021
About Executive Insight
Executive Insight is a specialized healthcare consulting firm supporting biopharmaceutical companies in successfully preparing, launching and commercializing their products. The company was founded in 2000 by a group of industry professionals who recognized the need for specialized healthcare consulting. Today, Executive Insight proudly works for 6 of the top 10 global pharma companies and has about 60 employees located throughout Europe and beyond. The head office is located in Switzerland with a subsidiary in London, UK.

Executive Insight AG
Seefeldstrasse 301
8008 Zurich, Switzerland
Phone: +41 (0)44 389 75 10
E-mail: info@executiveinsight.ch